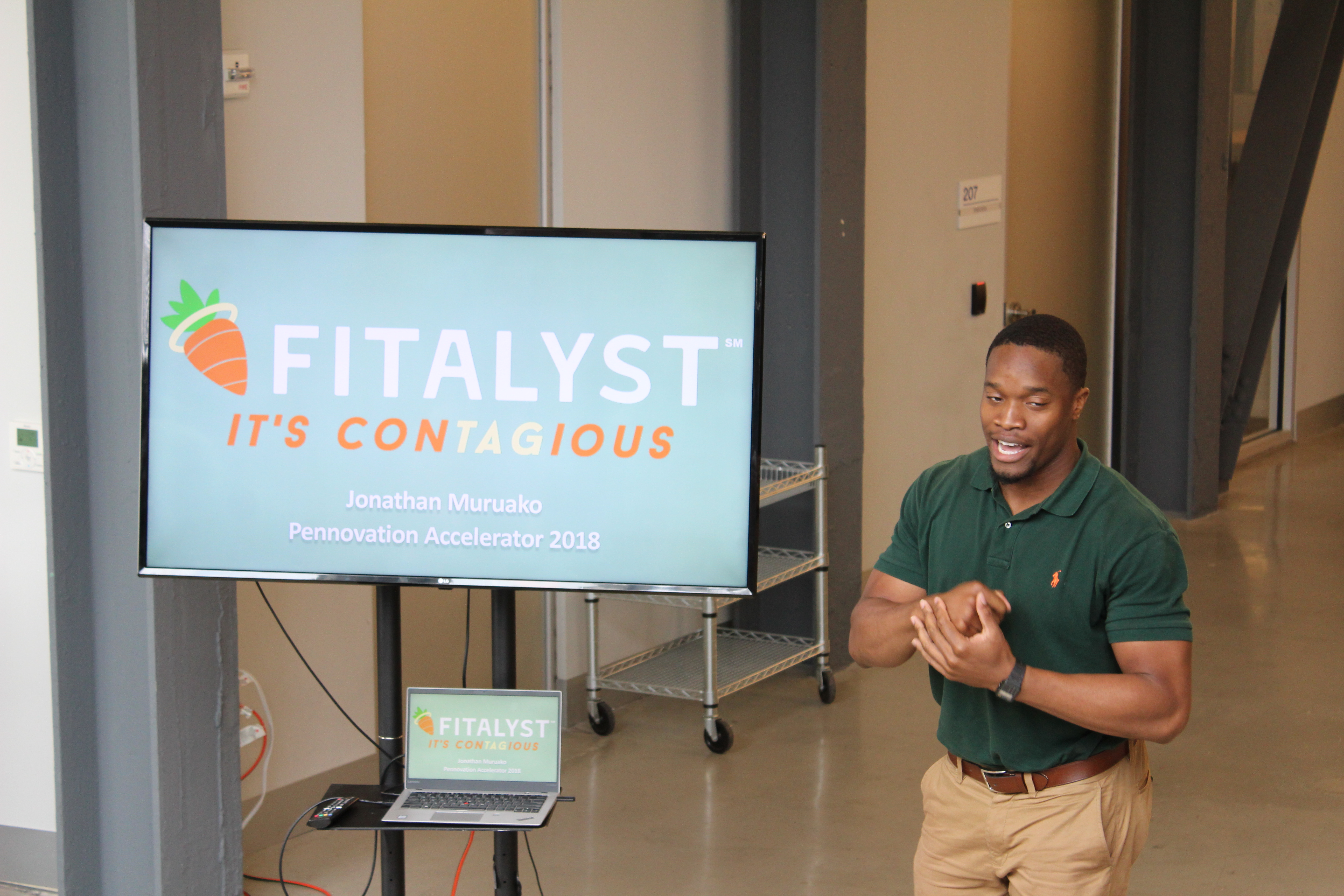 Prioritizing Mental and Physical Well-Being through Fitalyst: Jonathan Muruako
In the busy life of a college student, it's hard to juggle the many priorities that include studying, making time for friends, sleeping, and, most importantly, your mental and physical well-being. For many, certain goals and activities will inevitably fall on the back-burner. Unfortunately, it's not uncommon for mental and physical health to be one of these back-burner priorities once the pressure of school really kicks in. Jonathan Muruako, currently pursuing a Masters in Public Health from Penn, and Cameo Hazlewood, a senior at Penn studying cognitive science and consumer psychology, are working on a way to take mental and physical well-being off the backburner and put it at the forefront of the college student's mind through Fitalyst.

Started by Jonathan, Fitalyst is an IOS application with a built-in Facebook messenger bot which attempts to provide individualized wellness packages tailored to a student's schedule, eating habits, goals, anxieties, and more. Jonathan explains, "If you ask someone if their health is a priority to them, they are most likely going to say yes. But in reality, there can be a high mental capacity necessary to say, 'I'm going to only eat this type of food, for these reasons, I'm going to work out because I want to improve this aspect of my physical health, I'm going to set aside this amount of time so I can focus on my mental well-being.' Fitalyst tries to relieve the mental capacity required for these actions, making it easier for students to focus on doing the actual activity, rather than planning for it."
Essentially, Fitalyst will utilize some initial information about the user's schedule and habits to form 'wellness packages', which Jonathan defines as, "packages of information that are there for you to use at the most opportune time." A wellness package come in the form of a personalized workout routine delivered to you as you are heading to the gym, or information about how to improve your mental well-being, delivered during your ten-minute break between classes.
One of the key selling points of Fitalyst is that it's fully integrated with Facebook's Messenger. The wellness packages are delivered through Facebook Messenger messages by the company's' flagship product, Tag. Jonathan and Cameo explain, "Tag acts as the students' healthy conscience to keep you aspirational for your wellness goals. Through our Facebook messenger chat-bot experience, students can interact with Tag by asking Tag questions and receiving personalized wellness information from Tag. It helps that Tag is on Messenger, because students check messenger more than almost any other application, so it's not like they have to get in the habit of opening a separate application to interact with Tag. They can just interact with Tag as if they were just messaging another friend."
Currently, Fitalyst is still in the mid to early stages of development, with a recent pilot released to a smaller cohort of 100 college students. However, the team is already planning a larger iteration of 1000 college students on the app, before a potential full release in the Spring.

Jonathan and Cameo also have plans for expanding Fitalyst to encourage partnerships between students and local businesses around college campuses that promote healthy eating and fitness. In addition, they see Fitalyst as a potential tool for increasing communication between different wellness services around college campuses by helping the services better understand the average profiles of students through their preferences on Fitalyst. Jonathan elaborates, "It would be nice for CAPS to see that most of their visiting students have these types of schedules, or maybe 1920 Commons can see that lots of people come to eat during this time period after they go to the gym, so they can personalize their service to fit the needs of the students. It should always be free for students, and students should always come first."
Through Fitalyst's progress thus far, Jonathan has learned several valuable lessons. Regarding students who want to launch their own startup or pursue their own unique ideas, Jonathan encourages that they take advantage of resources at Penn. Jonathan remarks,
"I don't think people realize the difference in resources that a college student pursuing a startup has access to versus a graduate pursuing a startup has access to. As a student, there are so many funding opportunities, possible collaborations with fellow students, and more. The second you put that graduation hat on, a lot of the on campus resources are not as easily available because you are not a student anymore."
He has also learned extremely valuable time management skills. Jonathan has to keep up with several different aspects of his life such as the development of Fitalyst, his college classes, taking care of his health and more. When asked how he manages these different activities, he answered, "Everything I do, I do because I know it will bring me closer to achieving my goals. I don't spend time doing things that don't bring me closer to my goals. In my classes, I'm learning things that constantly make me re-evaluate the way I'm doing things with Fitalyst." Hopefully, Fitalyst will help college students better prioritize their mental and physical health after it's potential launch in the coming spring.