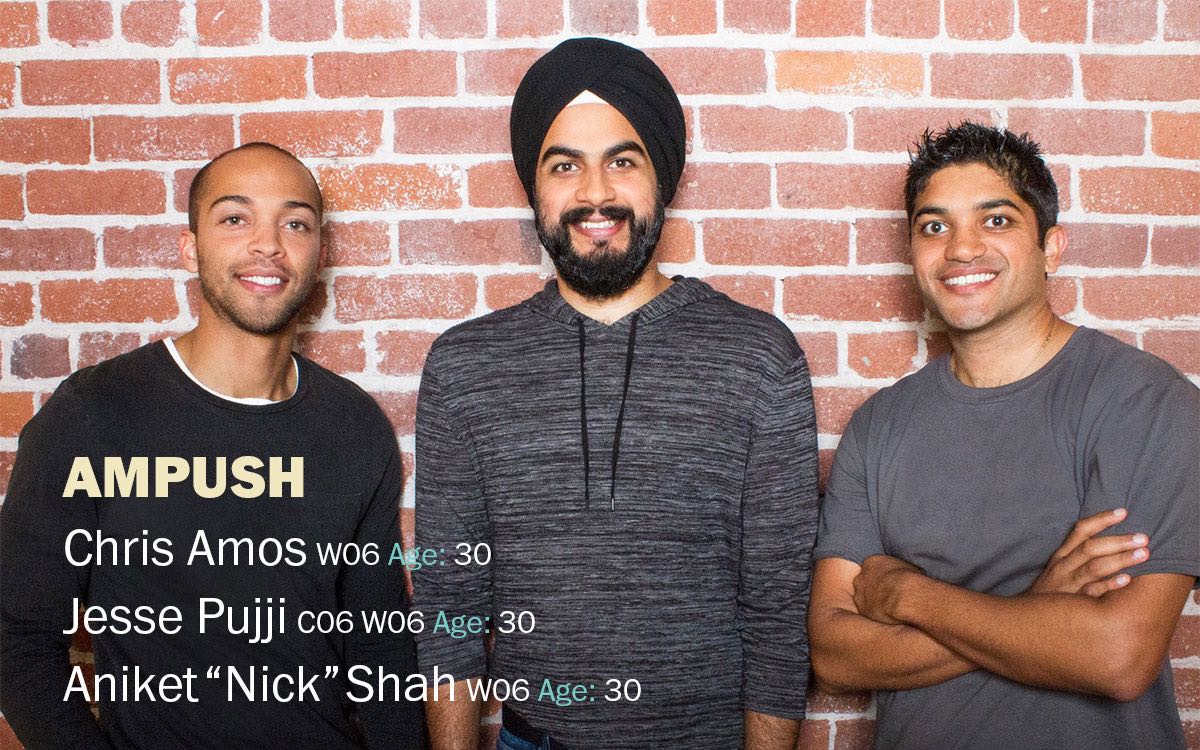 The Secret Sauce
"Customer acquisition and marketing," he says. The words hang in the air of the second story brick building that houses Ampush, a digital marketing firm based in San Francisco. Jesse Pujji, one of the three cofounders, believes this is what lies at the core of exponential growth in a company. Traditionally, companies would spend two months developing a 30 second ad to put on TV. They would only be able to see the results of the campaign after six months of running the ad. "Now we can do that whole process in under an hour."
In the eyes of Ampush, the marketing cycle is entirely data driven. "I know there are users on their phones, google searching, on Facebook, on Instagram. In order to get those users I need tech. I need data. Now I need a quantitative analyst rather than a marketing guy." With the data in hand, Ampush devises a foolproof end-to-end marketing campaign for the product. From the moment a user sees an ad all the way to purchase, Ampush can help personalize the process. "We occupy that whole horizontal layer of the process," he explains. "This is the secret sauce that makes the biggest companies work."
Nowadays, big data is a trend that consumers are weary of. Online profiles and targeted ads are just few of the examples of the impact of our digital footprint. Ampush was one of the early adopters of this trend. "We were one of the first people to figure out Facebook advertising in 2010 and 2011." They bet big on the growth of Facebook and it paid dividends. They later added data-driven approaches to advertising through Instagram, Snapchat, Google Ads, and Pinterest.
The journey he took with his cofounders to start Ampush began long before the creation of the company, however. They first met a year before college at Leadership in the Business World (LBW), a Wharton program for high school seniors. Over the course of their summer together, Nick Shah, Chris Amos, and Jesse grew to be close friends and closer still as roommates in the Quad their freshman year. The following summer, Jesse worked as a leader for the same program they met at and was whipped back to the entrepreneurial mindset that drove him through the rest of his college life.
Jesse, Nick, and Chris became serial entrepreneurs from sophomore year onwards. They started the Facebook equivalent for high school students, getting up to 50,000 users at its peak. They created their own version of BleacherReport at some point too. "We had the type of idea that you could work at a business then drop it if things weren't going so well." They soon realized they weren't getting anywhere.
Their most successful college venture was the one they stuck with the longest: a t-shirt company. They saw the opportunity in selling to freshmen, who were bound to buy Penn apparel in their first few weeks at college. The team designed and ordered 400 unofficial class t-shirts, and marketed through listserv emails to get pre orders. Within a week, they were sold out. After more sales during NSO, the trio made a total of $5,000 over the first couple weeks of their sophomore year.
"We took half the earnings and divided it up amongst themselves. Then we took the other half, put it in a bank account, and incorporated a company." And that's how trio became official. The group pushed through failed orders, printing inconsistencies, and delivery deadlines to grow the business and provide for as many clubs across campus as possible. By the end of their college careers, they were doing about $100,000 in annual revenue, "enough to not do work study," Jesse added.
Though his cofounders were a massive influence on his growth as an entrepreneur since an early age, Jesse was insistent on another aspect of the serial entrepreneur: tenacity.
"It's urgency, it's aggression, and it's perseverance and determination. Perseverance alone doesn't mean you're moving impressively. It just means that you don't stop."
Tenacity, however, is much more than that. Not only do you have to move against obstacles, you have to move with haste. That's the secret sauce - not "never give up", rather "keep moving faster".