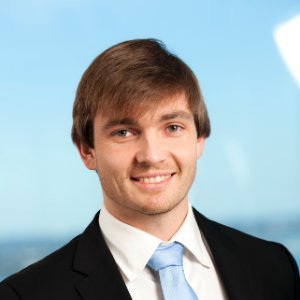 Incidnt - Timothy Blomfield
While growing up, people often make it seem like life is a straight path. Stay in school, work hard, get a job - as if life has a certain degree of predictability. However, for Wharton MBA student, Engineering Master's student, and aspiring entrepreneur Timothy Blomfield, the path could not be predetermined. From working in Australia to coming to graduate school in Philadelphia to starting his own business, Blomfield's life has been anything but predictable.
Timothy Blomfield is a current MBA student at Wharton and a Master's student in Systems Engineering at the University of Pennsylvania. Before coming to the U.S., he grew up in Australia and completed his undergraduate years as an engineer at the University of Queensland. Post graduation, he used his engineering skills while working for the Boston Consulting Group based out of Sydney, Australia.
After coming to Philadelphia, it was readily apparent that Penn's hub of entrepreneurship was no stranger to Blomfield.
"I grew up in an entrepreneurship environment. Both of my parents ran their own businesses. I've been in the environment of hiring, firing, and making payroll."
With his experience in the entrepreneurial world, Blomfield says that he's always had the interest of starting his own company. He made that interest a reality 6 months ago when he began his own venture.
Blomfield teamed up with one of his former colleagues and another one of his friends to create Indcidnt, "a web and mobile phone application that provides students with an anonymous, easy to use tool to report bullying incidents in the school setting."
Blomfield indicates that he and his former colleague bring the financial and technological background to the table and his friend, a teacher, brings the educational expertise. Blomfield decided to pursue this venture because of his noble social standpoint:
"There are unaddressed and often undiscussed challenges that the educational system faces."
The market potential for an app like this comes from the national increase in teen suicides and mass school shootings. An app that could decrease these tragic instances is a highly valuable resource for educators and administrators.
The Incidnt app is designed to streamline the process of reporting inappropriate behavior. Currently, there is no real way for kids to report bullying or poor treatment as soon as they see it happening while staying anonymous. Blomfield's company tries to address this situation and create a solution. They want children to feel comfortable reporting bullying instances and do so in a timely fashion. The app, therefore, removes the feared label of "the snitch" and decreases the time taken by school administration to intervene.
Students can post comments, videos, or screenshots to the app that contain proof of bullying. These posts remain secure and anonymous -- they can only be seen through a locked portal by the school administration. Blomfield's company is working on developing an intervention protocol that school administrations can use to deal with the consequences of reported bullying.
Timothy Blomfield has had his fair share of different experiences in both entrepreneurship and life in general. He gives key words of advice to students aspiring to start their own companies,
"Whilst at University, work on any idea --it almost doesn't matter what it is--but building the skills to work on a team, work through skills, and come up with a product, is so important and applicable to the real world. A great set of skills is so transferable to whatever you want to do in life…. Just go and do it."