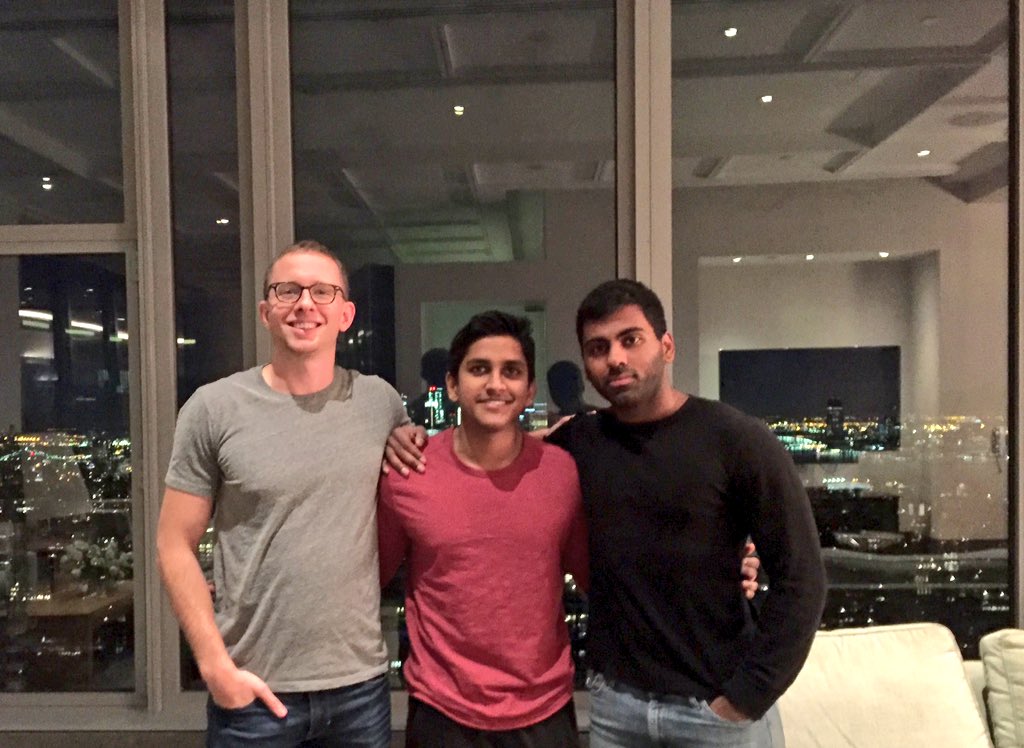 Darwish Gani and his Startup Rockets
"I was notorious for missing flights," Darwish Gani says with a grin. "I'd always go at the right time but the wrong day."
He found himself stranded in New York during yet another one of these incidents. Feeling too guilty to ask the company to pay for a hotel, he stayed at an old friend's apartment for the night instead. Abhi Ramesh listened while Darwish went on about building a coding school for millennials looking for a new direction. That conversation lead to what is now the Horizons School of Technology, their highly successful foray into private higher education.
Horizons was just the opportunity they were hoping for after their last play in the startup field. While both were college students, Darwish at Northwestern and Abhi at Penn, they started Altair Prep, a SAT test prep company. They generated a bank of answers to hundreds of SAT questions, tagged them into detailed subcategories, and put all the data into an Excel sheet. Then, they'd take a student's test data and give back questions that they needed to see the most.
The model proved extremely successful. Soon, their spreadsheets started crashing with the traffic and they realized they needed a technical solution to the problem, so the partners went to find a CTO. They hired a friend of a friend, "a Panamanian hacker. He didn't talk. He just coded. A lot." At this point, Darwish and Abhi weren't sure what they needed in an engineer, so they brought him on the team.
The company continued to grow to a six figure revenue business within a matter of months. The accelerating growth prompted the duo to apply to incubators for more guidance and resources while pushing Altair Prep along. At interviews, Abhi and Darwish would talk at length about the business and performance metrics but, being two non-technical founders, could not speak to the underlying structures that generated questions for the students. Interviewers caught on and asked the newly hired CTO about the technology behind the business to which he simply responded, "Hey man, I just do the computers".
That's when Darwish and Abhi were forced to reevaluate. They enjoyed the space, the work they did, and their tremendous rate of growth. But they lacked the experience they needed to properly hire, work with, and run a functioning team. "We just weren't ready for it yet."
Darwish went back to school with the objective of finishing quickly. As soon as he graduated, he rejected his full time offers with the intention of moving to San Francisco to learn to code. After the technical hiring fiasco at Altair, he was convinced that being a non-technical founder was to his disadvantage. His mom stopped him. She handed him a new credit card, stating: "if you're going to turn down job offers that's fine with me but you're going to have to deal with the consequences." Darwish nodded and took the card. "That's why I booked a one way flight to SF," he says. "I didn't want to pay for the two-way one."
After three months of coding, Darwish was staring down a couple job offers, one of which, Optimizely, stuck out. It was a small company offering a lower salary and lower position than the others on his table. Yet, he was still having trouble deciding. He sought advice from a speaker who he met while still in school at Northwestern. After listening to Darwish lay out the situation, he gave one piece of advice, a famous quote from Sheryl Sandberg:
"If you're offered a seat on a rocket ship, you don't ask what seat. You just get on."
So he joined Optimizely. And it was a rocket.
At the time he joined, there were about 80 people working on for the company. Over the course of three years, Darwish experienced a startling growth rate as the company burgeoned from 80 to 400 employees by the time he left. As the company evolved, so did his role. He shifted from technical to non-technical, up the ladder to down, and across different departments. He worked alongside the founders and saw their solutions to the logistical challenges of running a high growth startup.
"When working somewhere there's two things you have to think about. Rate of growth and rate of personal growth. When the company growth is faster than your personal growth you get situations like I had at Optimizely."
As soon as he gathered the experience he needed, he was ready to move on to his next adventure. And that's when he found himself in New York, in Abhi's apartment, discussing the plan for Horizons.
* * *
That conversation happened in December 2015. Two weeks later, Darwish built the landing page of the website on a plane to visit family. The site went live on his flight back. February 2016 they added a CFO, Edward Lando, to the team. In March, Abhi quit his job. One week later, Darwish quit. The day he quit, he flew to New York, worked with Abhi in his apartment for the next month, then launched the first session of Horizons that summer with 30 students in Philadelphia.
The code school saw tremendous growth within the year. The first session in the summer of 2016 was held at Penn with mainly Penn students. The team migrated to San Francisco the following year in the spring of 2017 to lead a cohort there. By this past summer, they had 134 students from all over the country enrolled in the program.
If Horizons turns out to be Darwish's next rocket, which it is already proving to be, this is one flight he will be glad he didn't miss.