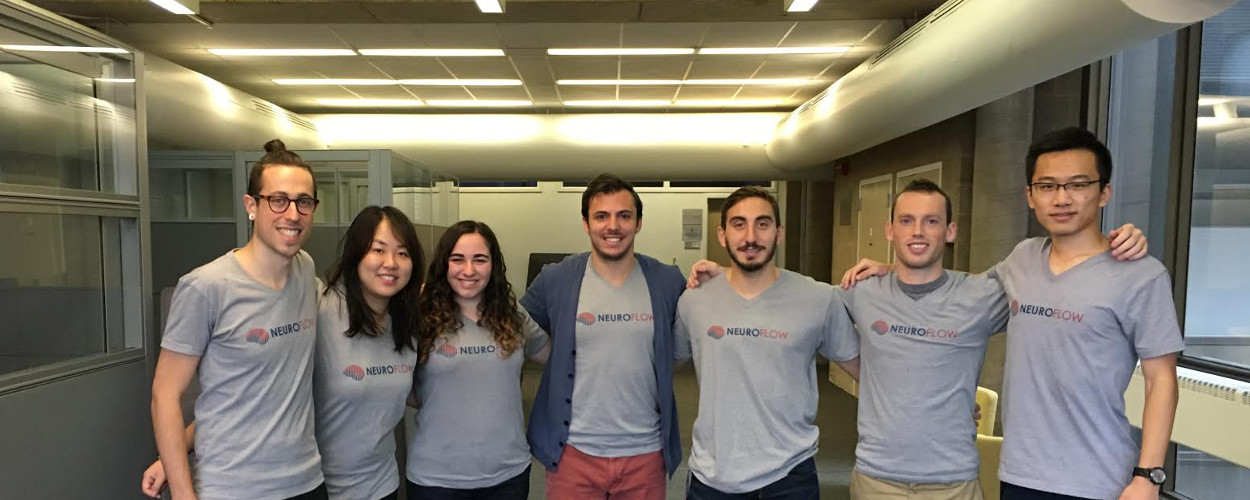 Neuroflow - Christopher Molaro
"Having the honor to lead 40 soldiers in combat environment had its challenges," said Christopher Molaro, current Wharton MBA student, co-founder of NeuroFlow, and civil engineer from West Point, "especially in terms of the health of the soldiers." In 2011, he lead his platoon into the Iraq War where he saw firsthand how the soldiers often struggled with stress levels, anxiety, and PTSD because of being away from home and family for years at a time.
After a year of serving in Iraq, Molaro arrived back in Texas. What he found was disheartening. At the Texas base location, the only medical screening tool being used for mental health assessments on veterans was a dated 10 question survey. Molaro comments on how these surveys can be subjective by nature and prone to error. He also noted that there is a negative stigma tied to mental health disorders that causes people to avoid the matter or mark it as taboo. The harsh reality still stands: 22 veterans a day commit suicide and 8 million Americans are diagnosed with PTSD each year. Molaro recognized the lack of understanding on how the human brain reacts and what goes on in these veteran's minds, but he did not yet have a plan to start a company to solve this problem.
This all changed when he joined the Philadelphia chapter of the InSITE Fellowship—a competitive leadership development program that focused on innovative technology companies. It was there that Molaro met his co-founder, bioengineering PhD candidate Adam Pardes. With Molaro's experience with veterans' mental health and Pardes' knowledge of biotechnology, NeuroFlow began to take form.
The pair built out their idea and business model for NeuroFlow and soon entered the Wharton Business Plan Competition. Molaro chuckles, "We didn't even make it past the first round." Their technology was not yet developed, but this first failure motivated the duo to give their company a real shot.
Molaro and Pardes, both still graduate students, poured as much time as they could into NeuroFlow. Molaro stated, "Every free minute is spent on NeuroFlow." They have early morning meetings from 7:30 to 9 am and would go to class right after. It was not uncommon to work long into the night. Molaro said that has main sacrifice in starting this company has been sleep. In the past month, Molaro estimates that they spend 70-80 hours per week on NeuroFlow.
Molaro and Pardes expanded their business plan and advanced their technology and software. Their hard work began to pay off. They won the Wharton Venture Award, the Wharton Innovation Fund, and were accepted into the PennApps Accelerator. They took what they learned from their first failure and kept pushing forward. They expanded their team with software engineers and bioengineers. Recently, the NeuroFlow team won the Philadelphia Shark Tank Award and are approved for a human clinical study in February at Penn Hospital.
The Software:
The NeuroFlow software does not diagnose disorders. Instead, it is a digital health software that measures biometric data, such as heart rates and EEG readings. Using this data, it runs analytical algorithms to determine how stressed a patient is on scale of 1 to 100
Stress is natural, but stress can be raised, and manifests itself through occurrences in the body. It is not a pseudoscience. If stress is raised, it can cause changes in heart rate and electrical brain activity. Neuroflow can quantify stress so both patients and doctors can better understand it.
Advice for Aspiring Entrepreneurs:
"Understand that it's a long road that isn't easy, but if it was easy everyone would do it. Don't get discouraged. Understand that you're not a superhero. You can't do it by yourself; it's all about surrounding yourself with people who are equally excited as you are about it [your company], but with certain skills and strengths that compliment yours." -Christopher Molaro
Favorite Memory at Penn:
Molaro, some Wharton classmates, and his NeuroFlow team members took a week off in the fall to hike 35 miles in the Andes Mountains. The group climbed to 15,000 feet and ended at Macchu Picchu. Molaro commented on how the oxygen was much lower at this elevation, so they were out of breath with every step they took. They got to feel "disconnected" from reality for a little bit. He says this vacation re-energized him and motivated him to get back to Penn and start working once again.