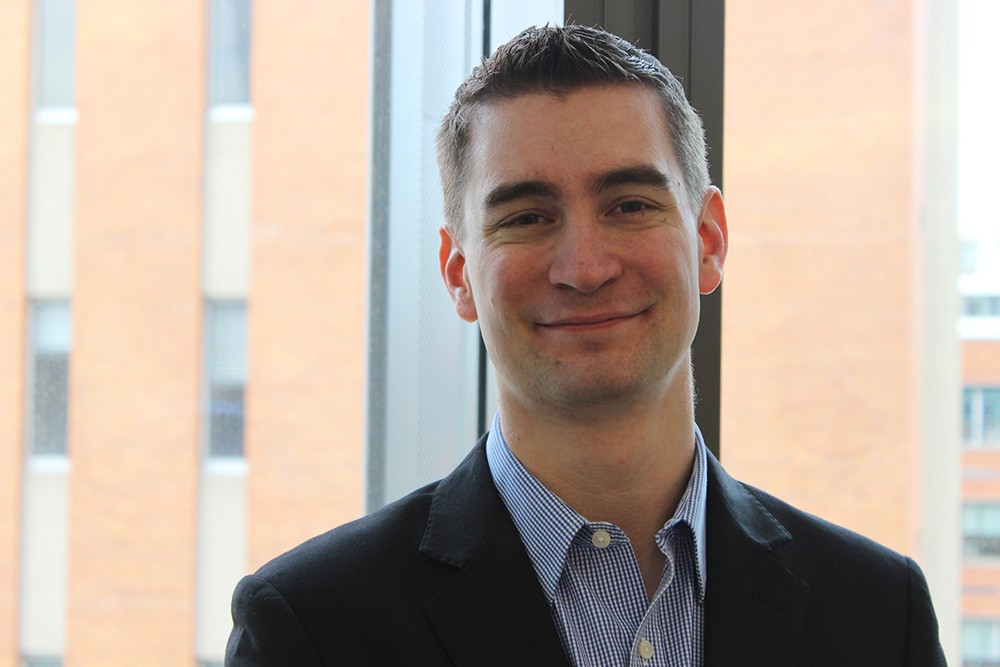 Sky's The Limit - Chris Bennett and Skyless Game Studios
Government agents around the world are learning skills and techniques for investigating crimes like corruption, fraud, and money laundering- but not in a way you might expect. They are playing a video game called Follow the Money, created by Skyless Game Studios, a Philadelphia-based company. In this game, you are a private investigator in an immersive and action-packed world of financial crime and must use skills such as evidence gathering, transaction tracing, mutual legal assistance requests, and asset forfeiture to solve a case.
This kind of video game-based learning is the vision Chris Bennett, CEO of Skyless Game Studios, imagined when he first began the company. Skyless Game Studios is a social impact, education, and philanthropy-oriented video game company, with games ranging from City Hall, a city management game, to Assemble It, a puzzle game for families with one or more children diagnosed with an autism spectrum disorder. Skyless Game Studios differentiates itself from other transformative video game companies in its field by partnering with organizations to create their games.
"There are a lot big missions, social causes and different organizations like non-profit organizations, social enterprises, individual experts, and researchers who want to make games. They're interested in using games in order to educate people, to change their thinking and behavior, and to have a positive impact on the world around them, so we dedicated ourselves to being a resource that helps these people achieve their social impact goals."
The roots of Skyless Game Studios are deeply ingrained in Drexel, as Bennett is a Drexel University graduate who studied business with a concentration in marketing and entrepreneurship. His work in philanthropy in his fraternity Pi Kappa Phi led him to meet one his co-founders, Drexel finance and entrepreneurship graduate Oleks Levtchenko, while his other co-founder Arad Malhotra was a student in Drexel's National Computer Science Honors Society.
Skyless Game Studios began as a small side project for Bennett and his team while at Drexel. It was funded by an entrepreneurship incubator run by the university, and the team's first project was called Project Empathy.
"We initially started with a principle focus on creating our own intellectual property," Bennett recalls, "with our games addressing different controversial topics. Our very first game [Project Empathy] was actually about the psychology behind radicalization, and the thesis behind that concept was that being able to understand other people is a way to solve problems."
Shortly after their work on Project Empathy, Skyless Game Studios received their first request for a customized video game- a game about corruption that would launch Skyless Game Studios into its present-day arena of client-based transformative gaming. This game became known as Follow the Money, and from the experience of working on Follow the Money, Bennett and his team soon began to shape the mission of Skyless Game Studios.
"A memorable moment from a few years back that I think really helped solidify what we were doing occurred while we were working on Follow the Money and were invited to present it at the United Nations Convention Against Corruption. At the event, we were meeting people from all sort of countries from corruption experts to policymakers, and it was pretty fascinating, seeing the different voices from different positions with respect to corruption."
However, the path for client-based video game creation proved to have its own challenges for Bennett and his team.
"We decided to take a bit of an usual approach in the technology space to our model, especially in that we're a service-based organization. A lot of startups focus on developing a MVP product and raise investment based on that, while we have principally funded ourselves through our sales. There are pros and cons to each approach, but I definitely think that early on, we were eating ramen and scratching by as best we could. It took a while to get referrals and to get our base growing. We kind of couldn't afford to have great social lives early on and basically worked for a lot less, initially for free, than a typical 9 to 5 job. "
Building a customer base and portfolio of works to attract new clients took time and work, but looking back on the model decision, Bennett believes that it was the right decision for Skyless Game Studios.
"We went to another conference called Games for Change in New York before we were on our current model of service business where we're focusing on working with other parties to make games, and this event was a big reason why we decided to shift towards this model. We were there with people coming from NGOs and social enterprises, and they had these cool ideas and initiatives that they thought games would be a great platform for, but they didn't have the ability to make it themselves."
Skyless Game Studios is now thriving, with a growing portfolio of video games and a strong team. "We have a light-hearted approach to our work," Bennett says, "We're serious about our results, but we also have a lot of fun doing it because there are many opportunities for creativity and artistic expression within the games we're designing." The nature of Skyless Game Studios' work also lends itself to a unique work process that keeps Bennett and his team thinking of new ideas:
"We have the interesting challenge of balancing a game that is supposed to be fun and artistic against specific business requirements, whether they're for social impact or for business-oriented outcomes. Especially right at the beginning of our project, it is always an interesting challenge to see how we end up going about combining all these weird requirements that don't sound fun into a fun game."
When asked whether he had a difficult decision choosing between the traditional path of post-graduation employment or continue his ventures with Skyless Game Studios, Bennett had a very clear answer, "After graduation, I worked at both Skyless and a normal job, but I think I knew the whole time that it was my intention to break off and do my own thing. It's just a part of who I am and how I approach work. It was a big step, and it takes a bit of craziness to make that choice, but I think it really worked out for me."
And for aspiring entrepreneurs, Bennett concluded with a piece of advice that ultimately reflects the spirit of Skyless Game Studios.
"As much as you need to be thoughtful about it and make sure you're committed, if you don't take a risk, you're not going to achieve what you want to achieve. If there's even a glimmer of a yes, just do it."