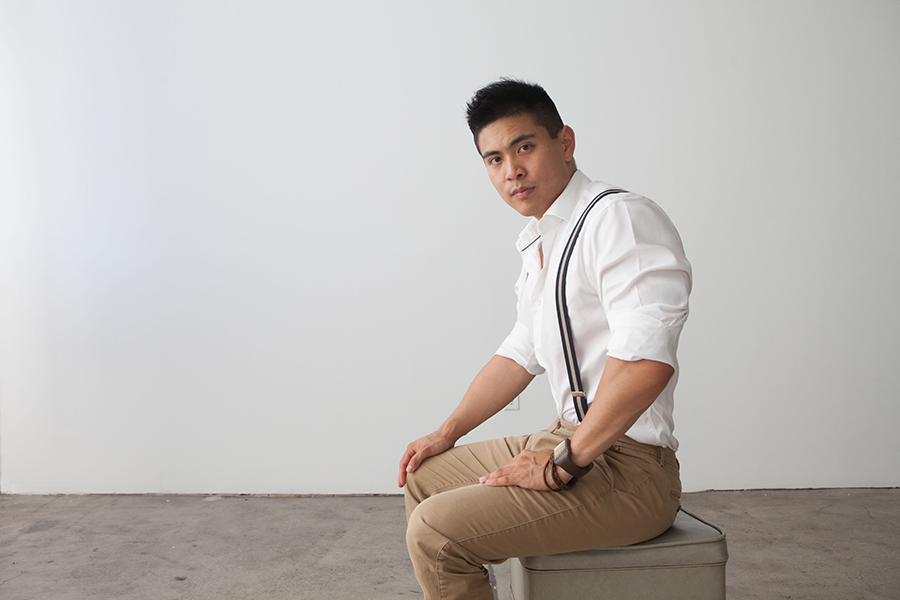 Bing Chen is conquering death with media
"You have to figure out why you exist. Then you have to find the industry that best enables it." Bing Chen is an industrious soon-to-be modern day Walt Disney striving to help as many people self-actualize as frequently and with as much depth as possible. As an aggressive humanist, he's driven by an intense motivation to enable others to find their purposes before dying, or as Bing describes it, the deadline.
"The secret to getting things in life is A) you have to find it; B) you have to go for it and C) you have to stop only when you're done."
With this drive, Bing has spun a fantastic and true life narrative in his quest to maximize self-actualization in humanity. After examining his most current project, Bingdom Studios, we'll see how his years in college, YouTube, and startup Victorious shaped his ability to drive Bingdom.
Bingdom Studios operates as three separate entities. Firstly, it is a venture capital firm funding exciting opportunities in new media. Secondly, it advises roughly 18 digital media companies from startups to billion dollar enterprises. Finally, Bingdom creates and invests in its own creative universes, much like Marvel or Star Wars, but with a very interesting and compelling twist.
"Bingdom will creatively and culturally help us re-imagine each of the four pivotal human experiences while providing a set of practical services that eases each. The four critical human life experiences are birth, marriage (human relationships), profession, and death. Each of our universes will tackle one of these four arenas, beginning with death. Together, they'll hopefully help answer humanity's oldest question: why am I here?"
Bing further explained why death is important and why Bingdom strives to address it.
Philosophically, "Death is the definitive deadline for self-actualizing--or becoming who you're meant to be. As far as we know, all we have is what we know and all we know--as humans--is now." Bing wants to help people answer the question: "If death is your deadline, how do you make sure that you live the life you want to faster and more deeply?" Bing then explained his practical reasoning:
"There are 75 million baby boomers who are at the end of their lives in the United States right now. It is the largest influx of natural deaths in nearly 5 centuries. The challenge with the West is we're really provincial in how we think about and treat death. We fear it. Not only do we shun conversations about it, but portions of the death industry have been able to exploit that immutability. The average funeral in the United States, for instance, costs roughly $7,000-$10,000 dollars, which is cost-prohibitive for most people. It's literally too expensive to die--and even more expensive to pronounce your legacy. That's not acceptable."
"This, coupled with existential millennial trends--namely heightened economic depletion (millennials have delayed canonical rites of passage like buying property, getting married, and having children); a rise in clinical depression and suicide; and aversion/disavowment of traditional institutional associations (religion, government, etc.)--renders self-actualization a evermore critical cross-generational issue." He explains with his own experiences:
"I've had a host of indelible experiences that have, in different ways, forced me to reconcile identity, which might be why I care about it [self-actualization] so much. For instance, I watched my father die when I was thirteen. If you see death right before your eyes, you immediately wonder why you exist. I've been clinically depressed - if you've seen a low, then you wonder why you should be high."
Self-actualization, Bing believes, is the solution to potentially elevating humanity's aptitude for happiness. "The worst thing you can tell someone who's depressed is to be happy because everything will be alright. That's not how it works. You help them find a reason to breathe again."
In success, Bingdom looks like the modern-day Walt Disney company. The company has been extremely quiet developing its first creative franchise that launches across multiple platforms in 2017 with over 100 celebrities and leading companies.
During his college years, Bing saw that Rich Ross, former Chairman of Walt Disney Studios and now CEO of Discovery, along with Stacey Snider, former CEO of Dreamworks and now CEO of 20th Century Fox, two of many highly successful media titans that studied English at Penn. Spotting this pattern, he envisioned his success in media through Penn's English program. He graduated cum laude with a major in Creative Writing while serving as President of the Ivy Council and on the Undergraduate Assembly at the University of Pennsylvania. He was also a member of the Sphinx and Oracle Senior Honor Societies. Bing's track-record of "going for it" also expanded to acting on the side and heavy extracurriculars. "I went for auditions or petty work and have some horror stories from it. I diarrhead my pants one time in front of Director Justin Lin in New York City," he laughed.
Bing pivoted away from his dream of a political career before college and decided to pursue entertainment. "I saw entertainment as a much more meaningful and frequent vehicle to deliver the kind of impact I cared about. My dream was to be like Walt Disney and Oprah," he explained. He especially seemed to resonate with Oprah - "She had a literal stage where she would allow people to self-actualize. And, remember: this was a Black woman in the 90s on TV. The fact that she looked different and, yet, was still able to create this universally-applicable and resonant platform was really compelling."
Bing took his vision through college and into YouTube, where he architected most of the now-multi-billion dollar global influencer ecosystem's programs, through which he scaled the Partner Program globally, co-founded the company's marquee talent incubator, and led several community investments in events like VidCon, the DigiTour and YouTube FanFest. To give a perspective of the scale of what this 25 year-old was doing: the Partner Program drives billions in revenue each year; the talent incubator has since been launched over 35 times on 6 continents for hundreds of creators; and VidCon is now the largest online video convention in the world. Using Walt Disney as his model, he also implemented a global rewards system, including the widely-recognized YouTube Gold Play Button. He was the most decorated person under the age of 30 at YouTube and made the Forbes list during his time. Bing attributes his successes to his incredible bosses, mentors and collaborating with much more senior and experienced executives. Despite his trail of success, Bing described, "It became a bit soul-sucking - not because I was working 90-100 hours per week because everyone works a lot but because I was building someone else's dream. I was building creators' dreams as well as a platform for someone else. It wasn't 100% the vision I wanted because compromises had to be made. At some point, I wasn't willing to make any more compromises. I learned everything I could and it was time to move on."
Moving on, Bing then co-founded his own company, Victorious, which envisioned to empower users to be themselves online by engaging with content that speaks to them. Victorious helped creators create and monetize content; it intelligently connected the backends of several apps and websites to cross promote data, content, and user experiences so users could access the content that they love. Bing's close friendships with stars like Boyce Avenue, Ryan Higa, and Jenna Marbles delivered amazing early business development success. In fact, Victorious signed "more partners in six months than the largest new media company in the world had in seven years, at the time." His reputation in the space, alongside his co-founders, also raised the company more than $50 million from Kleiner Perkins and many other top venture capital firms. Despite the early success, Bing realized that he had once again backburned his boyhood creative dreams to build someone else's; so, he left after 2 years. "I confused what I was good at for what I really wanted."
Bing then founded Bingdom and has since met many successes, particularly in his Board Director and Advisory Board work--and soon in his first creative franchise next year. Bing leaves us with advice that transcends individual passions:
"Be respectful. Be kind. And always overdeliver."
Bing has unlocked many success with this key - from business development to building strong company culture. Ultimately, it enables him in his mission for mass self-actualization.