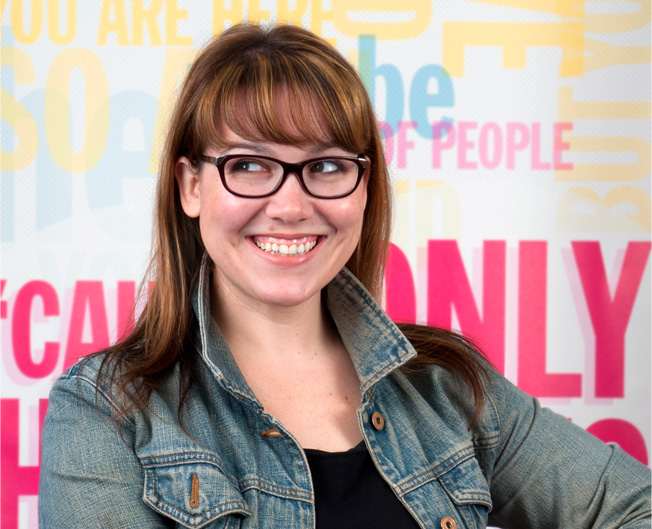 Beth Blinebury: Building a Brand through Website Design
In the age of the internet, one of the most distinct identities a brand can have is its website. Beth Blinebury is the co-owner of Blinebury Designs, a studio that specializes in branding design and custom website design and development, and her work is to build that identity for businesses.
The current designer and website developer is the primary face of the business, meeting with clients daily. Her day-to-day work involves a great deal of business acumen and research across industries, but as a student, Beth's beginnings were in art and design. She went to Temple Tyler School of Arts and majored in photography with a future in art in mind. But unexpectedly, it was in one of her photography classes that she began to learn how to code in HTML, Flash, and animation. Her degree later from the Maryland Institute College of Arts would build further on Beth's progression into web design as she worked heavily in mixed medias with photography, video, and incorporated web and coding as well.
A few years later, a college friend solicited her to build a website for their mom's business - a small children's boutique. From there, Beth found herself doing an increasing amount of work as a freelance website designer. But it wasn't until years later that Beth realized the full potential her website design work could have as a business.
"In 2008, I started to realize that it had been 10 years since I got my MSA, and when I returned home to Philly, I decided that this could really be a business. This could be a viable option." At the time, Beth was teaching art classes at her both of her alma maters, the Tyler School of Arts and MICA, as well as coding class at Villanova University - and for the next 3 or 4 years, she continued teaching while setting the foundations for Blinebury Design.
"I had a perfect structure to build my business," Beth reflects, "It was really ideal, having a steady flow of income from teaching, which I really enjoyed, but I was also able to slowly grow my business as opposed to diving straight in."
Now, Blinebury Design is thriving, with a hefty client portfolio of designs for clients from international lawyers, wedding industry professionals, to even an opera singer and a private college-preparatory high school. Most of their clients are referrals, with about 95% of their business generated from word-of-mouth.
As for the creative process behind their websites and designs, the first step is finding the clients' needs and adjusting the work to their budget. Beth emphasizes that Blinebury has a specific aesthetic and customizable site options, which also factor into their assessment of whether the client and their project are a good fit for Blinebury's team as well.
Once she decides to take on a client, Beth begins a research-intensive strategizing process. She meets with clients and key stakeholders to make sure their branding is aligned. They may also do focus groups with users to figure out site hierarchies and gauge their opinions on the branding of an organization - from how it is perceived, to how it can be changed through design.
"We don't want to put pen to paper until we have a full understanding of who this organization is," Beth affirms.
And as opposed to other agencies or designer that may create numerous website mockups, Beth makes sure that Blinebury Design focuses more on presenting one or two quality designs with the most crucial concepts.
"We try to put all the energy in our work hours to really try to take what we learned from our discovery process to create and apply a strategy that we really think will work."
Of course, clients aren't always assured by quality over quantity, and Beth has learned that trust is a key element in design:
"Sometimes clients are very hesitant when they hear that they're only going to get one website concept and assume what they will want is to pick out one from three - and again, that circles back to that sales pitch you need to make to your client and establish trust in the weeks of research that is part of our process."
Having to make business decisions over design decisions sometimes is a common issues design firms often find themselves faced with, especially when in client-based lines of work, and establishing a firmly grounded belief in her designs is what helps drive Beth along the design process:
"As a designer, part of your job is not just to make a great looking product, but also to sell the client that this design can fulfill your needs, it can help solve your problems. We're not just picking cool fonts and cool colors, there's strategy behind it."
Production will then begin once the client approves of the design. Blinebury's production package includes not only a website product, but client training as well. The goal of client training is a philosophy unique to Blinebury Design, and that is to empower the client to be able to manage the websites themselves. Beth's work doesn't end there, however. Months and years down the line, Blinebury Designs still works with clients to make tweaks and updates to the content and layout of the sites as needed. And as technology changes, and sometimes even the client's company philosophy, Beth makes sure to be there to help them refresh their brand identity.
At the end of the day, there are many things that come with running a two-person business that are less glamorous than the front-end work, from the extremely technical things like accounting and finding your own health insurance, Beth explains. Even taking a week off is a carefully planned process. "It's all on us to meet client needs and make sure they're happy, even just taking time off is a lot - a week off is crazy. You have to find people to fill in and function as contacts for our clients in the case of any issues and handle any emergencies."
But this cost is small compared to the benefits that she gains - the reasons why she began her business in the first place:
"It's amazingly freeing to be able to make your own schedule and choose which projects to work on. I thrive on creating this space for me and my partner to really shine in terms of what we do. There's also the flexibility to choose who you work with, how you work, and when you work - all amazing perks… Ultimately, I really love running my own business, I love creating this situation for myself to be able to creatively solve problems for my clients."