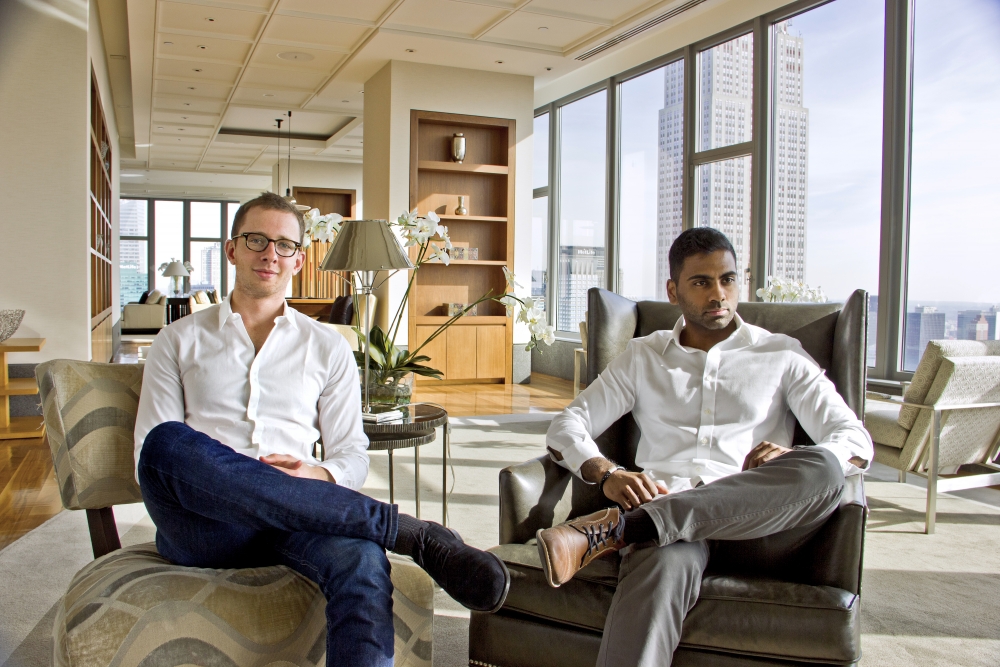 The Adrenaline of High Impact
"Abhi, quit your job."
"No, not yet. I'll quit once we get some more traction."
"We're not going to get traction unless you quit your job. Abhi, quit your job."
Ok, so this conversation didn't literally happen, but it's essentially how the first couple months went for college buddies Abhi and Edward. While Abhi was working at Apollo Global Management, a fancy private equity firm with an office overlooking Central Park, Edward was helping out with Helios, one of their "side-projects" at the time. Every day, Abhi would go to work at 7:30AM and come back at 10PM and every day Edward would tell Abhi to quit his job. Helios just couldn't make it as a side-project.
"Abhi, this is going to be huge. Trust me."
Abhi saw the potential in what Helios could become but knew they wouldn't reach it if he wasn't fully committed. His hesitation was understandable; he had a well-paying job and, last time Abhi took a risk this large, it didn't exactly cash out to be the "next big thing."
Abhi and Darwish, old high school friends, were back in town from Penn and Northwestern respectively for Thanksgiving break. Abhi, a 2400-SAT-score student and responsible older sibling, was helping his younger brother prepare for the exam. Interestingly, Darwish was also tutoring students for the SAT. In discussing SAT prep, they realized they could provide a better product than the hundreds of test-prep books that littered the industry. They wanted to create personalized test preparation paths for students optimized to their skill levels. Then, during their sophomore year of college, Altair Prep was born. After 1 month of creating a reasonable game-plan, the work needed to grow Altair grew exponentially.
"The variables add up very quickly. You start with product; but then you add in hiring, sales, customers, customer service, operations, getting classroom locations, handling tuition payments, and navigating legal processes."
Abhi and Darwish spent their time taking classes by day and growing Altair by night. It's important to note here that Abhi's work ethic and love for dense, hard work enabled him to conduct research and pursue two degrees, all the while expanding his test-prep start up.
Just after their first seven months categorizing thousands of test questions, hiring tutors, onboarding students, and booking class space, Altair prep was in 4 cities and had a team of 10 and 60 students enrolled in the program.
Soon, a menacing problem loomed over Altair. Abhi and Darwish's tutors couldn't efficiently work with the many spreadsheets the company used to store testing information and questions. They needed software tools for their tutors and a software platform for their students. With no one on the team with software skills, Altair used freelance developers and even hired a CTO - all strategies that didn't work because hiring is hard.
It's now the summer before Abhi's junior year of college. Unable to meet their technology needs, Altair fizzled to a halt.
"Towards the end of Altair, both Darwish and I came to the conclusion that we needed technical skills."
In a "now or never" decision, Abhi took a year off from college to learn how to code. Some rails tutorials, "side-projects," and hackathons later, he moved to LA to work with two angel investors who saw promise in his projects at the time. During his stay in California, Abhi worked for 9 months on 30-40 different projects, returned to school, graduated, and started at Apollo. Meanwhile, Darwish had been busy programming at a coding bootcamp and then started at Optimizely.
"Seeing the companies we invested in at Apollo, I realized that I now had the skills to literally build those companies' products. I was lucky enough to have gotten these skills before I launched my career. So, I had the option to do other things. But other people didn't - I had plenty of finance friends working at banks who hated their lives, were interested in tech, but didn't know how to get started."
With Abhi's programming experience and Darwish's understanding of technical schools, Abhi knew the duo could build an immersive, fulfilling technology education experience. Darwish saw merit in the idea and soon Edward Lando was on board as well. Thus, Helios, soon renamed to the "Horizons School of Technology," was born.
"Abhi man, you need to quit your job!"
Seeing Edward's reason and the value behind full commitment, Abhi gave his two-week's notice and quit Apollo. Two days later, Darwish quit Optimizely and the three of them began hashing out the Horizons curriculum.
Now, Abhi's experience from Altair came to use; having driven sales and worked with students, he sold Horizons' first summer web-development program to dozens of college aged students. Since then, Horizons has served hundreds more students, all evangelists of the program.
Horizons has expanded to serving summer cohorts and expanded their team several fold in just over one year of existence. They've been able to provide an invaluable experience to both students looking to break into technology and those already studying technical subjects.
"Horizons teaches you to hustle for what you want and to never settle for less. It was a lot of work but it was worth it" said Audrey Setiadarma, a recent Horizons graduate and Computer Science major.
Today, Abhi continues to make the high-impact decisions at Horizons that he left Apollo to make. He left our conversation with a glimpse into his character. After asking more about why he left Apollo, Abhi responded:
"What made me leave wasn't that I hated my job. I didn't like working at a large institution where I didn't feel like I was building something. The extent to which I need impact is very hard for any company to provide. I want very very very large impact decisions in my hands. That's what excites me. It's like an adrenaline rush; those decisions are all I can think about all day every day - and I like that. What I didn't like was traditional work-life balance. I didn't like leaving work and not having work to do. It wasn't fun enough for me."
Abhi's desire for excellence emanates through his intensity as a person. He can be found either on call with clients, at his laptop, or boxing at the gym. He is a tank, blazing through his own and others' obstacles with his unstoppable work ethic and love for impact.
Finally, Abhi left me with some advice for students in college.
"The students who can identify early on the path they want to take and then pedal to the metal down that path end up being notches more successful than everyone else. The time you put into things early in your life compounds quickly. The people I knew in college who focused from day one are incredibly successful in their respective fields. The tricky thing with college is that the way universities are structured, students are encouraged to explore a lot to find their passion. I think you have to explore to a certain extent to find out what path to take. However, often times, students end up exploring too much - for four full years. They leave college just as confused as they came in. College ends, real life begins, and they don't have an idea of the path they want to take, nor the deep skills to do well on any given path. My personal view is that passion is idealized and possibly overrated. I think passion can develop as being very good at something. Identify your path early and gun down that path."